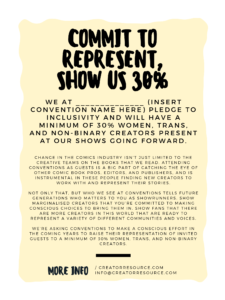 Change in the comics industry isn't just limited to the creative teams on the books that we read. Attending conventions as guests is a big part of catching the eye of other comic book pros, editors, and publishers, and is instrumental in these people finding new creators to work with and represent their stories.
Not only that, but who we see at conventions tells future generations who matters. Help show marginalised creators that you're committed to making conscious choices to bring them in to your conventions. Show fans that there are more creators in this world that represent a variety of different communities and voices.
We're asking conventions to make a conscious effort in the coming years to raise their representation of invited guests to a minimum of 30% women, trans, and non-binary creators.
If you'd like to help in our efforts, we have a PDF of our call to action poster here for you to download.
For an idea of what some upcoming conventions have in terms of representation, check out this thread from earlier this month.
We'll be keeping track of the conventions that reach out to pledge to the 30% and for any conventions that would like to try this but don't know where to start, let us know. We have a database of women, trans, and non-binary creators who are available to table at your shows. This list is available exclusively to convention teams.
PLEDGED CONVENTIONS:
Who will be the first? Is it your show? Let us know!
For more information, email us at info@creatorresource.com.
Special thanks to Leslie Doyle, Jey Pawlik, and the other amazing people who helped put this together.
Latest posts by Stephanie Cooke
(see all)