Kurt Michael Russell has an instructional web site as well as an instructional YouTube channel to help colourists at any level better navigate the field. While Kurt's YouTube channel allows you to watch videos for free, there are options available for "memberships" ($4.99/month USD) that come with exclusive perks. The full courses on his web site range in price from $19-$145 USD, they include a number of different lessons that are sure to be an asset to you as a creator.
Mohammed Agbadi has plenty of great tips on his YouTube channel, he goes into detail about a bunch of different areas including shading, textures, free brushes to use, lighting, and more. He also has a vlog that chronicles a number of things including insight into his journey as an artist.
Schoolism with Andrew Hou
This one doesn't have any free alternatives, but came recommended to us. Andrew Hou offers a course through the web site Schoolism which allows you to take an in-depth look at the art of digital painting. The fee for the site is $29.96/month USD and gives you access not only to Hou's course, but all the Schoolism courses. You can also choose a Critique Session package for $798 USD that includes "personalized video feedback from course instructor Andrew Hou as students learn from weekly lecture videos and complete scheduled assignments."
10 Lessons for Better Colouring
Brian MacLachlan put together a little mini course for webcomics creators (although anyone can utilize the tips). The post is relatively short and to the point, includes examples and explains why certain things work or don't work. It's a really great post, and while I know a lot of folks tend to steer themselves to videos and such, this is an excellent and coherent (and free!) post that explains a lot of things to those who like to read and process information that way.
The Making and Colouring of Isola
Michele Assarasakorn created a zine that's available both physically and digitally that discusses and shows her process as the colourist on Image Comics' series Isola by Brenden Fletcher, Karl Kerschl, and Michele. For the sake of this post, it's probably easier for you to check out the zine digitally, so you can head on over to Gumroad where it's available for $7.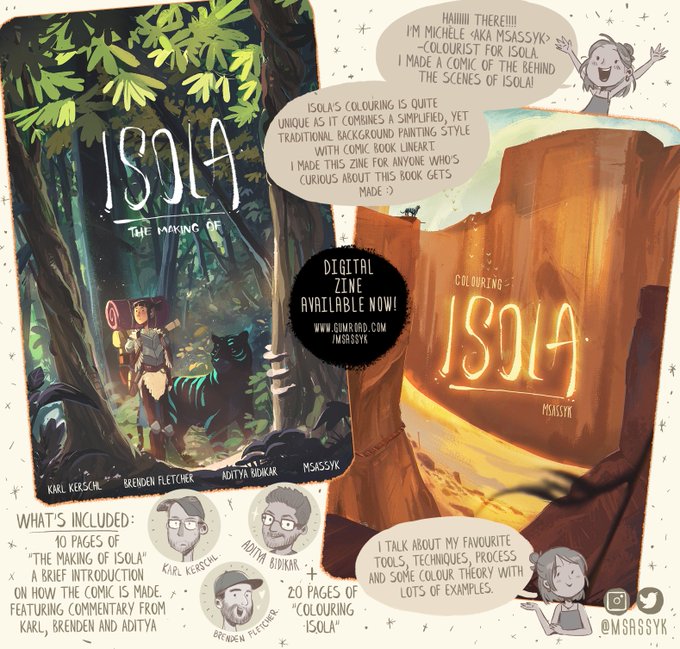 PHLEARN
PHLEARN offers a wide range of tutorials, focusing mostly on photography and Photoshop. While this isn't related specifically to colouring comics, the same principals from photography can mostly be applied to colouring for comics. And Photoshop is a vital tool. PHLEARN offers free weekly courses, has a YouTube channel of tutorials, and has paid options as well.
BOOKS:
Color for Comics by Hi*Fi
The DC Comics Guide to Coloring and Lettering by Mark Chiarello and Todd Klein
Colour and Light by James Gurney
---
If you know of any tutorials, guides, books, or whatever that you think should be added to this post, leave us a comment and let us know!
Latest posts by Stephanie Cooke
(see all)