There are rumors going around that I have a heart, if this is true, it would be black. That being said, I had 2 ripe avocados sitting around and my little black heart delighted in trying to make a healthy, chocolaty, gluten-free, velvety treat with them. So I did. Just use egg replacer to make these vegan.
BLACK [like my heart] AVOCADO COOKIES
MAKES 12 COOKIES
TOOLS:
Avocado — Image by © Beau Lark/Corbis

Cookie sheet

Silpat [or other nonstick pad for baking]
Mixer [optional]
1 medium bowl
1 small bowl
Spatula
Measuring cups and spoons
Spoon
INGREDIENTS:
½ cup slivered almonds
¾ cup ripe avocado [about 1 + ½ avocados] mashed
1 tbsp water
½ tsp baking soda
½ cup coconut sugar
1 egg
½ tsp vanilla
½ cup dark cocoa powder
50 g. dark chocolate chunks [60% – 80%]
½ cup dried bing cherries, chopped [optional]
INSTRUCTIONS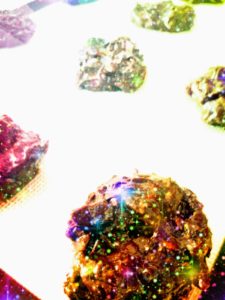 Preheat oven to 350 degrees. Sprinkle the almonds onto the cookie sheet. Place in oven while it's heating up – check after 10 min. Take out when aromatic.
In small bowl, combine baking soda and water. Let it sit.
In medium bowl, combine avocado and coconut sugar until smooth. Add the egg, baking soda mixture and vanilla and continue to beat until just combined. Add the cocoa powder. Continue to beat until just combined.
With the spatula, fold in chocolate chunks, almonds and cherries, if using.
Using a spoon, place the cookies on the cookie sheet, 3 to a row, 4 rows total. Press down a little as these do not spread very much.
Bake for 8 – 10 minutes, or until the tops are firm. Like all cookies, flip the orientation of the pan halfway through.
Take out of the oven, allow to stand for 5 minutes then transfer to a wire rack. Be very careful, as these will melt when still warm. Place in refrigerator and allow to cool. These are better just out of the fridge the next day.
Place any remanding cookies in an airtight container. Will keep up to a week, but you'll eat all of them WAY before that.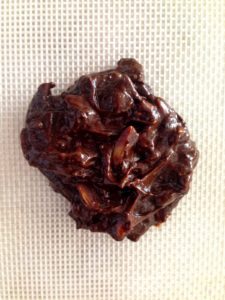 Latest posts by Megan Hutchison
(see all)