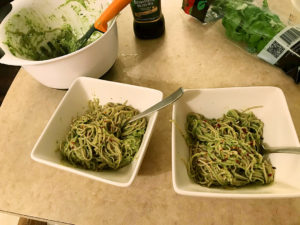 My husband and I found this recipe a few years ago. We're both meat eaters, so it's surprising how much we fell so hard for something so vegan!
The recipe takes 20 min tops and most of that is waiting for water to boil. So it's great when you don't have a lot of time but you also want to pretend you're eating healthy. And it's easy to change to your personal tastes. Just add more or less of the lemon, basil, or red pepper flakes as you like! I've seen a few versions of it with sunflower or sesame seeds added to the end for a bit of crunch, so you do you!
Soba Noodles with an Avocado Basil Pesto
INGREDIENTS:
1 Package of soba noodles
1 Avocado
A handful of fresh basil leaves
1 Lemon
1-2 Tablespoon of Olive Oil
Red Pepper Flakes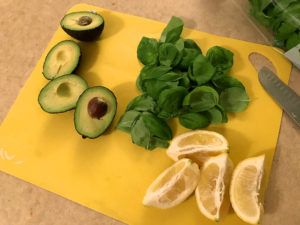 Cook the soba noodles as instructed by the package. Don't forget to salt the water!
While waiting for the water to boil and the noodles to cook, cut open your avocado and scoop out the fruit into a food processor. (the pictures include two avocados, but they were tiny. One regular sized avocado should suit just fine)
Add the handful of basil leaves to the processor. If you really like basil, pretend your hands are very large.
Add the juice of one lemon to the food processor. The original recipe we found said half a lemon, but lemon is really good, y'all.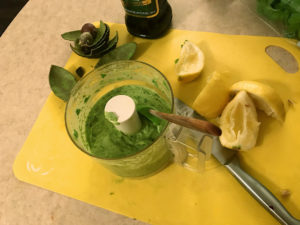 Finally, add some olive oil to the processor along with some salt and pepper to taste. Blend it all together into a pesto. I'd say start with a tablespoon of olive oil and then add more if you find the pesto seems too thick.
Put the cooked soba noodles in a large bowl and dump the pesto on top, mixing it all together until evenly covered.
Serve with red pepper flakes to taste!
Latest posts by Jessica Trevino
(see all)