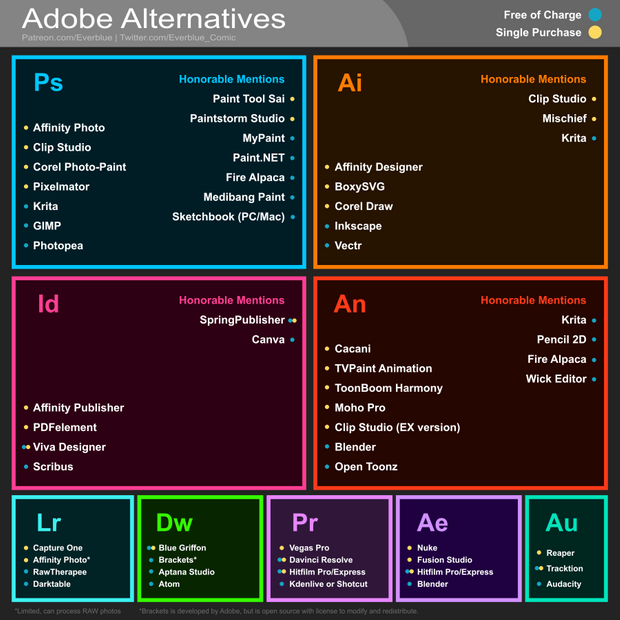 Quick Links for all the software mentioned here:
Freeware and/or Open Source:
PS: GIMP | Krita | Photopea | MyPaint | Paint.NET | Sketchbook | Fire Alpaca | Medibang Paint
AI: Inkscape | Vectr
IN: Viva Designer | Scribus
AN: Blender | Open Toonz | Pencil 2D | Wick Editor | Synfig*
LR: RawTherapee | Darktable
DW: Blue Griffon | Brackets | Aptana Studio
PR: Davinci Resolve 15 | Hitfilm Express | KdenLive | Shotcut
AE: Tracktion 7 | Audacity
Affordable and/or No Subscription Necessary:
PS: Affinity Photo | Clip Studio | Corel Photo-Paint | PixelMator | Paint Tool Sai | Paintstorm Studio
AI: Affinity Designer | Corel Draw | BoxySVG | Mischief
IN: Affinity Publisher | PDFelement
AN: Cacani | TVPaint Animation | Moho Pro | ToonBoom Harmony
LR: Capture One | Luminar
PR: Davinci Resolve 16 | Hitfilm Pro | Vegas Pro
AU: Reaper
*Synfig's performance is currently pretty bad on Windows, so I can only recommend it as an Animate alternative on Linux.
Please visit Michael's Patreon page/the original post for a more comprehensive discussion on a few of the programs.
---
This piece has been posted with permission from Michael Sexton. You can visit the original post here, and follow Michael online to learn more.
Latest posts by Stephanie Cooke
(see all)