Today Christina Poag shares her recipe for Challah Bread. Check it out!
---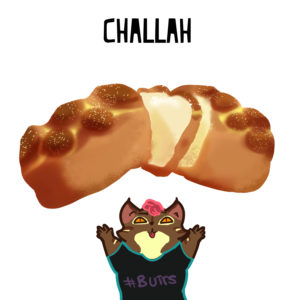 Bread seems so complicated to make but really this is one of the most laidback things to make. The majority of the time the bread is rising all by itself.
My favorite bread is Challah because I think it's the perfect sandwich bread for anything you have in the fridge. If you don't eat it all before it starts to go stale you can even make great french toast with it!
INGREDIENTS:
5 cups all purpose flour
1/3 cups honey
1 egg
3 egg yolks
1 tsp sugar
1 tbs yeast
1 1/2 cups warm water
2 tbs canola oil
2 tsp salt
TOPPINGS:
Egg wash – 1 Egg
Salt
Sesame Seeds, cinnamon sugar, poppy seeds (Optional)
Ground flax seed (Optional)
HOW TO:
Put warm water,sugar and yeast in a bowl. Let sit for 10-20 minutes or until the yeast gets all frothy.
Mix in the rest of the ingredients and knead dough for 10-15 minutes .
Cover the bowl with plastic wrap and a kitchen towel. Set it in a warm place to rise for 1 hour.
Hot tip: Boil a pot of water and put the pot and bowl in the oven to rise.
IMPORTANT: Do not punch the dough down if you want fluffy bread. This also helps take less energy when making the bread.
Take the dough out and wet your hands;this helps the dough not stick to you. Pull up the sides of the dough and drop it in the middle of the bread until all the dough on the sides is in the center. Flip the dough over so the yeast can keep doing it's job.
Place dough back in oven for another 1 hour. Reheat the pot of water as needed.
When the dough is ready put some parchment paper and a sprinkle of flour on a cookie sheet. Flip the bowl onto that.
A bread pan is not needed but you can use one if you have it. Braiding the bread is also not required but it's fun.
Shape the dough into a rectangle loaf shape.
Put the egg wash on top of the bread. Use a pastry brush or just a paper towel. Add desired toppings like sesame seeds or cinnamon sugar.
Let the bread rise one last time while the oven preheats to 350 F.
Pop that good loaf into the oven for 25-30 minutes. You'll know it's done when the top is golden brown or when your place smells like a bakery.
Let it cool.
Latest posts by Stephanie Cooke
(see all)