From Leeann Hamilton comes a "Cheap as Chips" recipe for The Nachorole. Leeann's recipe not only looks fantastic but comes with a few variations to help with your budget. Take a look below!
The Nachorole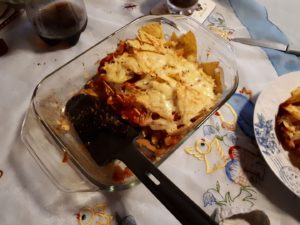 Tortilla chips and dips are often seen as party snacks – and topped nachos as an appetiser – but if it's all you have in place of a Proper Dinner someday, they can taste rather sad.
Because cutting vegetables and cooking beef are hard to get wrong, you can combine them with chips and dips and bake the lot together, so you can feel a little less guilty relying on mere snack food to get you through the day. The ingredients are interchangeable with cheaper and omittable/additional items, so you don't have to cook the same thing twice AND feel a sense of culinary achievement!
Serves: up to 6 people, if you're feeling generous.
Cooking time: 30 -40 minutes on average
Reheatable?: Yes, keep leftovers in the fridge, and ideally reheat in an oven for 20 minutes.
TOOLS:
Medium/large cooking pot
Casserole dish
Sharp knife for cutting veggies
Wooden spoon (or non scratch utensil)
Large slotted spatula or pizza server to scoop out and serve
INGREDIENTS:
1 share-size bag of tortilla chips (any flavour)
1 jar of salsa dip (any intensity)
1lb/450g of minced beef
1 medium white onion, diced
1 can kidney beans
Grated cheddar cheese
1/2 red bell pepper, diced
1 tbsp seasoning, like paprika or cayenne pepper
Beef or vegetable stock
A small block of butter, for greasing the casserole dish
Olive oil/water
Salt
BUDGET SWAP-INS:
Baked beans for kidney beans, but drain out a little of the tomato sauce!
Amp up the veggies (courgette, mushrooms, tomatoes), instead of minced meat, but dice them too
No salsa? Passata will do the trick if you stir in some tabasco or diced chilis, or use any hot sauce
COOKING IT:
Dice up the onion and pepper into little cubes, and set aside. Coat the casserole dish with a little butter, and line the bottom with tortilla chips. You can opt to keep some aside to decorate the top layer later. Sprinkle some of the cheese over the chips.
Heat up the cooking pot to a medium/high heat, and add enough water and/or olive oil to coat the bottom of the pot. As it heats up, add the stock and grind it in the pot.
When the water/oil is visibly simmering, add the mince and the diced onions to the pot. Be sure to break up the mince to brown it evenly, and stir the onion through it. You can add salt and seasoning to the meat as it cooks.
The mince should take about 10 minutes to properly brown. To avoiding burning the pan, you can top up with a little water or oil if it seems cooked away. Then add the diced pepper and beans. Stir through and cook for another 10 minutes.
When cooked, pour the mince and vegetables into the casserole onto the chips, and spread it gently but evenly so it coats the chips. Open the salsa and pour that over the mince, spreading it evenly also. Top the dish with the rest of the grated cheese and tuck some chips along the inside of the dish and cover/decorate the top with chips.
Put the dish into a preheated oven (180 degrees celsius, but adjust in case your oven has different heating times/levels), and bake for a minimum of ten to fifteen minutes, or when the cheese is brown and crispy.
Serve by spooning it out (be careful not to get burned!), and add garnish if you like.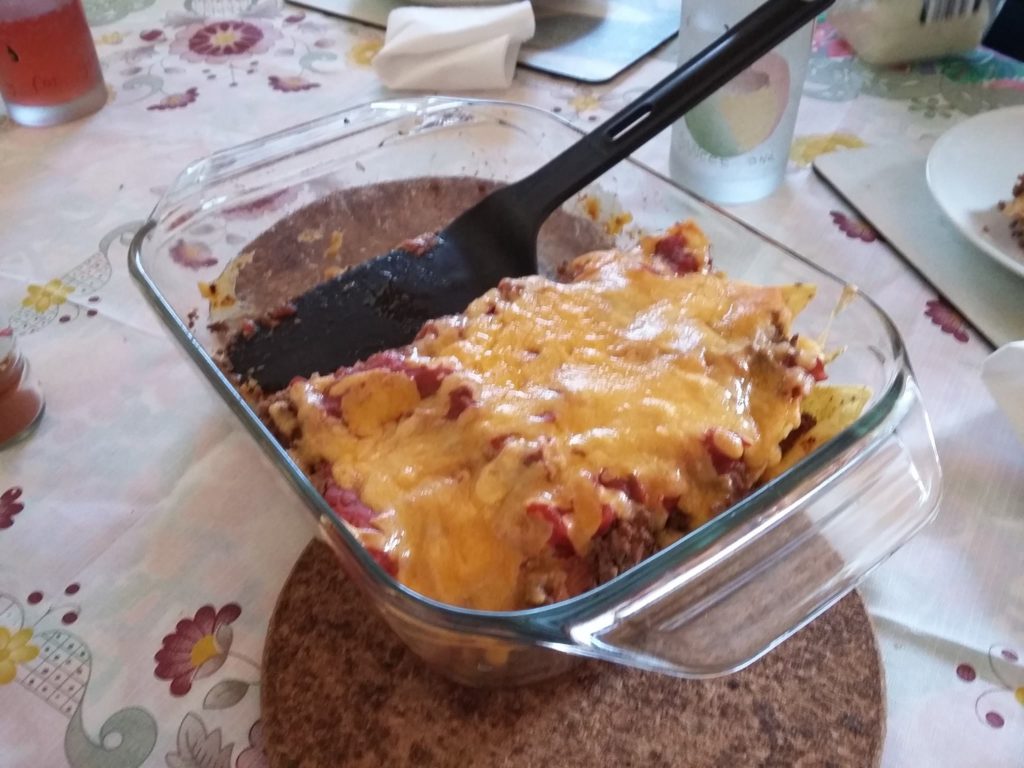 Latest posts by Stephanie Cooke
(see all)