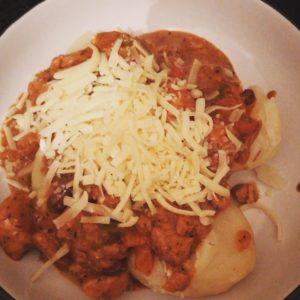 Umar Ditta has sent us a chicken dish that is incredibly versatile (and delicious!)
Check it out below:
VERSATILE CHICKEN RECIPE
INGREDIENTS:
1 chicken breast (cubed)
2 green peppers (diced – thick)
1 red pepper
1 brown onion
½ TBS vegetable oil
½ can of tinned tomatoes
2 potatoes (diced)
150g cheddar cheese (grated)
Marinate
Salt
Ground pepper
Paprika
Ground coriander
Ground basil
Ground oregano
Honey
Dark soy sauce
Lime juice
STEPS:
1) I start off by marinating the chicken in a separate bowl – you can do this moments before
you start cooking, this is entirely up to you and depends on what ingredients that you can
get, but what I do is the following:
a. Add about 30ml of soy sauce
b. ½ TBS of the all the spices listed above (except for paprika – I like to add around 2
TBS because I really like paprika)
c. Massage everything together and finally add a squeeze of lime juice and about 20ml
of honey.
2) Then I cook the onion until slightly browned in the vegetable oil on medium high heat
3) Add the peppers and stir
4) Then I add the marinated chicken to the peppers and onion
5) As the chicken cooks, I add the tinned tomatoes
6) In a separate saucepan, add the diced potatoes and fill it with water
7) Cook the potatoes for about 5 mins or until the potatoes soften slightly
8) Then drain the potatoes and add then to the main saucepan
9) Continue stirring the pot and add the cheese
10) I season the dish, if needed, to my own preference
11) And you're done!
This is a simple dish that I've worked on over the last few years and it can go with pasta, rice,
noodles, salad or in a fajita wrap. The choice is yours.
---
Umar Ditta is a writer and hates it when he has to talk about himself in the third person. He has written Untethered (which you can get here and here). Currently he is working on Untethered #2 and a few other things that he can't really talk about just yet.
Latest posts by Stephanie Cooke
(see all)