You are in the end aisle of a supermarket.
You hear a loud crash.
Somewhere close a woman is shouting obscenities.
A jar of pasta sauce rolls out of aisle seven and into view.
What just happened? Take a moment to decide. You may not even need a moment. Perhaps, as you were reading, a story took shape in your mind.
Our brains are storytelling machines. Every day they receive information and form it into a story. Information that doesn't fit the story is abandoned. As the story is retold, it evolves. It become stronger. It becomes important.
Do you remember your last vacation? What do you remember about it?
It's likely you remember the room you stayed in, the people you saw, and the events you took part in. It's unlikely that you remember your room number, what time you ate lunch, or which socks you packed. Why would this be? The first set are elements in a story. The second set are extraneous details, which, in most cases, don't contribute to the story.
Look again at the first lines of this essay. Your mind wanted to make sense of a list of random events. None of these events need to be connected. They could each happen in a busy supermarket independently. Your brain turned them into a story, because that's what brains do.
So, what is a story? Let's start with what a story isn't.
A story isn't a series of random events. That's what life is. Our brains turn life into story.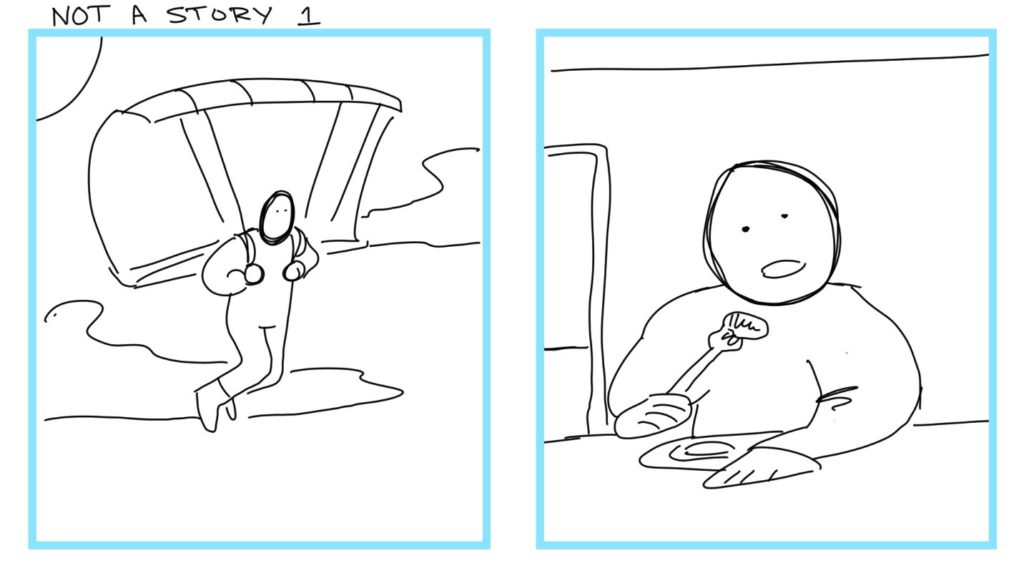 A story isn't a character. A character experiences a story.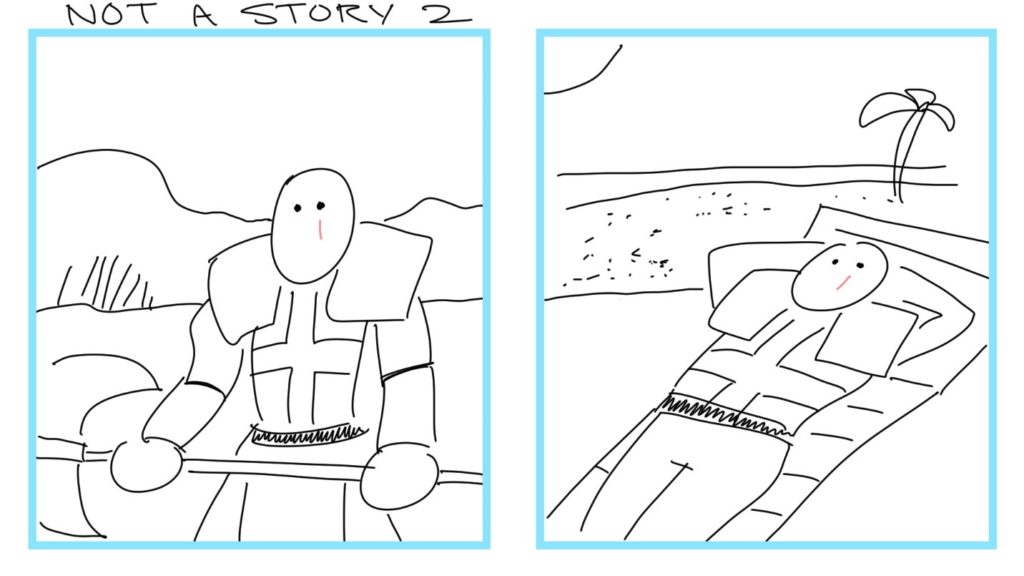 A story isn't a place. All stories need a setting, but a setting is not a story.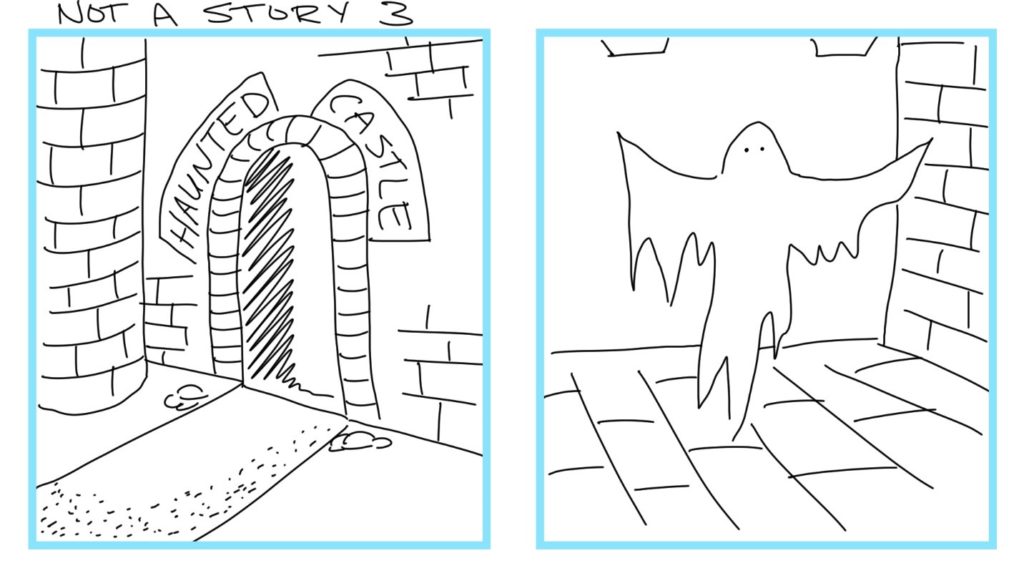 A story is the life of a problem. A story begins when the problem is born into the world. A story ends when the problem is solved (or, rarely, becomes unsolvable).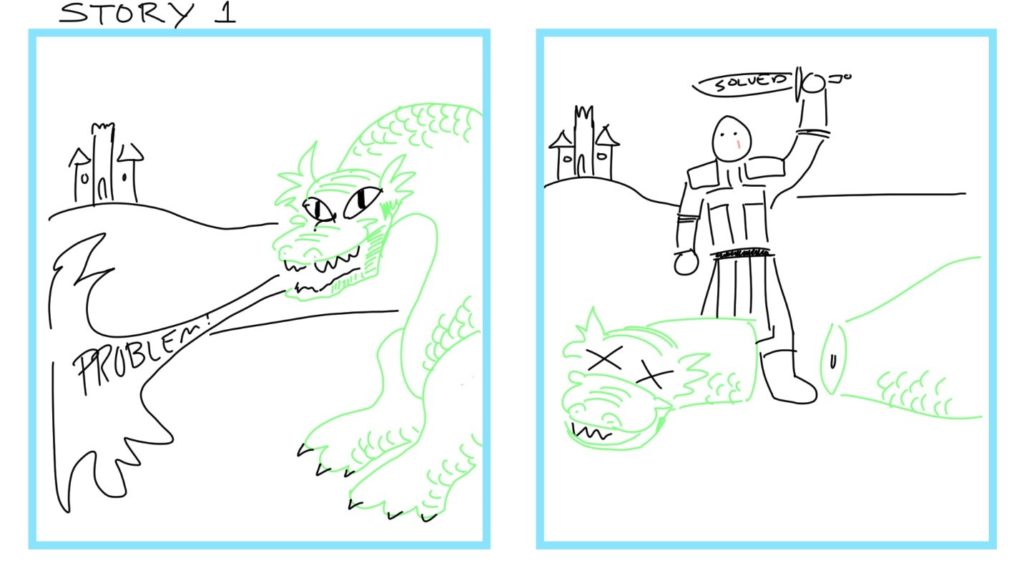 Now, if you're paying attention, you may be asking yourself, "Wait … was my vacation a problem?" Yes, yes it was. Your problem is you wanted a break, or you wanted to explore, or you wanted to learn. Problems aren't always dragons. Problems are born in the brain and might also be called needs.
You had a need and you went on vacation to fulfil it. This was your problem. Everything you remember from your vacation either helped you fill that need and solve the problem (the beautiful beach on which you finally relaxed or the amazing history you got to explore) or it got in the way of solving the problem (the desk clerk who couldn't find your key or the difficulty of navigating public transportation in an unfamiliar city). Your vacation story ends when you leave, provided there are no troubles getting home. Need fulfilled.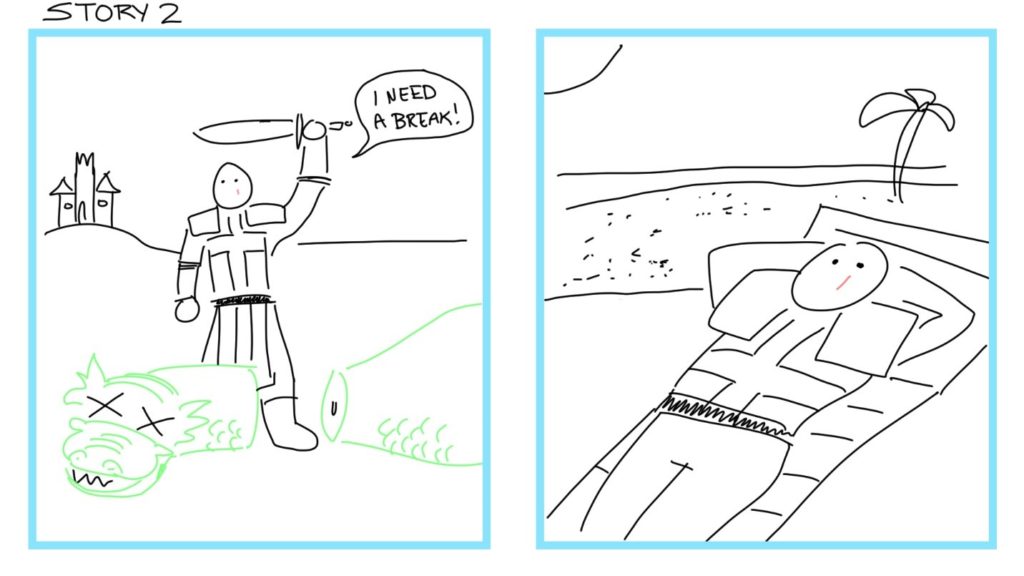 Takeaways:
Character, setting and events are necessary for story, but are not a story by themselves.
A story is the life of a problem. It starts when the problem arises and ends when the problem is solved (or becomes unsolvable).
Another name for a problem is a need.
Postscript:
Did you see a story in Not A Story 1, 2, or 3? If so, it is because your brain filled in the gaps, just like in the supermarket. As a storyteller we can and should play with our audience and allow their brain to fill in gaps once in a while. However, if they are doing all the work, then they don't need you.
Latest posts by Marlowe Bochs
(see all)