Each month we'll be doing a profile on one of the creators from the Creator Advisor database, giving you an introduction to who they are and what they do. We have a fantastic collection of talent in the Creator Advisor database and want to be able to share these talents as widely as possible!
If you'd like to join Creator Advisor or request creator contacts from the database, please head over to Creator Advisor and submit the relevant form.
Patrons get early access to all profiles, so if you're interested in supporting the promotion of these creators and the maintenance of Creator Resource & Advisor, please consider pledging! Your pledges make all this possible.
Tell us about yourself!
My name is Emily Riesbeck. I've been self-publishing my superhero webcomic, THE BLUE VALKYRIE, with artist David Mitchell for almost five years. My short comics have been featured in anthologies like LOCAL HAUNTS and CHUBBY. My debut graphic novel, ITS YOUR FUNERAL, drawn by Ellen Kramer and lettered by Matt Krotzer, is being published by Iron Circus Comics in mid 2020. I live in Chicago with my partners and my cat and I love to play tabletop roleplaying games.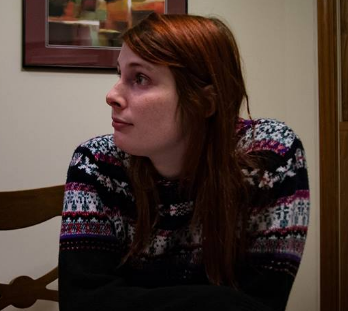 What is your favourite thing about creating?
I would have to say the attention! That sounds odd, I know. I have always loved making things and telling stories, and having an audience for my stories is the most fun thing to me. I'm very extroverted and love to meet people and talk with people about my stories, hear about their stories, and just get amped and excited about creating. I have a blast at conventions.
What one thing do you wish you could go back and tell yourself when you started?
Have patience. Creative work, especially making books, requires endless patience. You are going to wait and wait and wait just to be rejected from stuff and you're going to have to learn to just pick yourself back up, learn something, and try again and do better next time.
What tip would you give someone interested in creating?
"Write what you know" is great advice. But I think equally good is "write what you love." Don't waste time writing things you aren't passionate about. I spent a lot of my early years trying to write "smart" and "important" things. It wasn't until I started writing a superhero comic for fun that I realized "holy crap, writing can be fun." If you're not writing something you care about, then you're probably not going to get anything done. Also, if you want to get into comics as a writer and NOT as an artist, worship the ground your artists walk on. You definitely cannot make a comic without artists.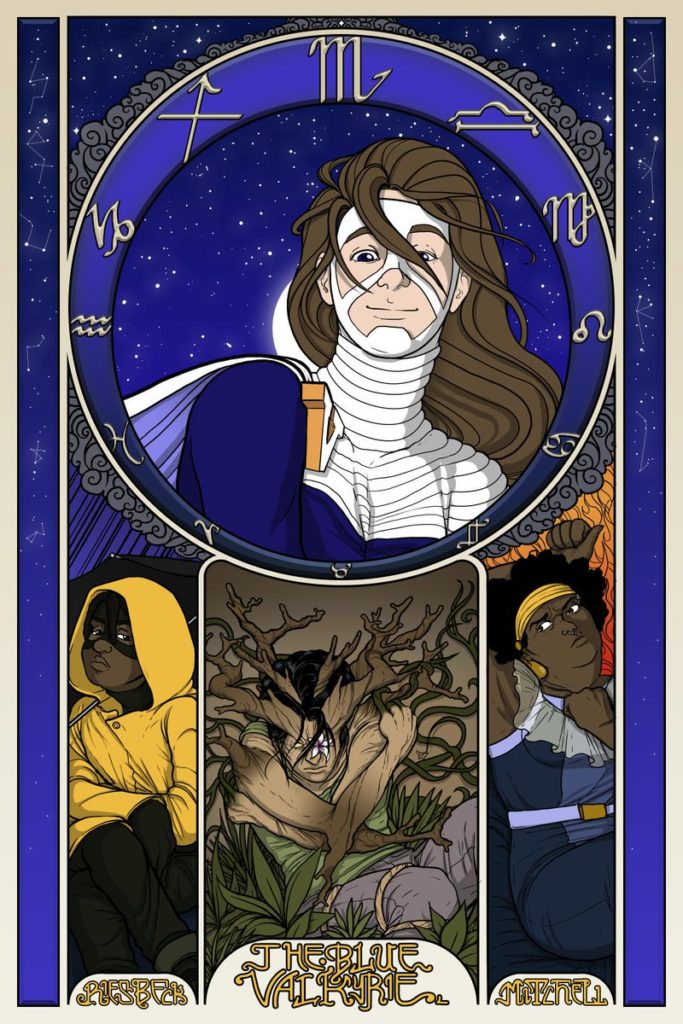 (art for The Blue Valkyrie by David Mitchell)
Can you share a favourite resource or mentor?
Niki Smith has done an amazing job of cataloguing some literary agencies that represent graphic novels. Traditional publishing still doesn't "get" graphic novels in a lot of ways, so navigating finding an agent as a graphic novelist is a bit difficult. You can check out the list here: http://niki-smith.com/about/graphic-novel-agents/
Shout out someone else whose work you love that we should know about!
So many people so I'll stick to two: I did a short comic with Melissa Capriglione (@mcapriglioneart on Twitter) this year that is going to be in the LOCAL HAUNTS anthology. Melissa is a really wonderful person to work with. Melissa creates the webcomic Falconhyrste which you can check out here: http://www.falconhyrste.com
Also, Bitmap Prager (@BMPrager on Twitter), who has done webcomics like The Ashen Princess and To Catch A Dream Eater, has an incredibly unique and exciting style. I think she's someone to look out for: http://www.ashenprincess.com/
Where can we find you?
Most of my stuff can be found on my website: http://emilyriesbeck.com/. You can check out my webcomic, The Blue Valkyrie, at https://thebluevalkyrie.com/. I'm most prolific on my twitter, @thebluevalkyrie
Latest posts by Niki Hawes
(see all)